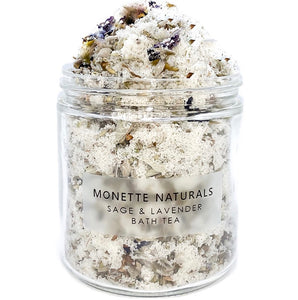 Monette Naturals
Sage & Lavender Bath Tea
Regular price
$ 28.00
$ 0.00
Stimulates Immune System / Mental Clarity

Relaxing blend, while promoting focus during meditation. Strong immune stimulant against infections. Treats muscle aches and pain.

Essential Oil Ingredients
Clary Sage essential oil is taken from the flowers and leaves. It's a superior oil for anti-aging while calming deep rooted mental tension and nervousness.  In wellness, sage is know to relax the body and mind for meditation and increases mental clarity.
Lavender essential oil comes from the flower part and is valued for its fresh sweet aroma and versatility.  For the skin, it helps to moisturize and soothe dry skin.  Lavenders aromatherapy quality soothes mental stress and relaxes the body.
Tea Tree (Melaleuca) essential oil is taken from the leaves and twigs. It fights all three categories of infection: bacterial, viral and fungi.

Grey Sea Salt is harvested from french sea waters that is channeled into clay-lined evaporation ponds, forming pure salt crystals.  The salt crystals absorb all the minerals found in the clay, including its beautiful grey color.  It's one of the softest sea salts which aids in softening bath water and moisturizing skin.
Other Ingredients: flower petals (lavender, sage, blue chamomile)
Size: 16 oz
How to use:
Add 6 to 8 tbls per bath
---
Share this Product
---
More from this collection